scroll down 1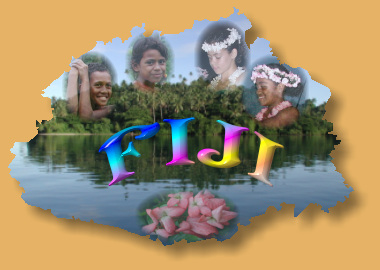 After 17 days sailing north from New Zealand, Selena and I, and my two crew Briton and Richard, arrived in the Fiji Islands, making first landfall at the town of Savusavu on the second largest island of the Fijian Group, Vanua Levu. Fiji, being one of the larger island groups of the South Pacific, and centrally located, is a popular "cross-roads" port of call for many of the yachts sailing and cruising the South Pacific Ocean. Richard and Briton, had signed on in New Zealand, primarily for the passage to Fiji. After arrival they spent a couple weeks backpacking around Vanua Levu, but then had to fly back home to rejoin their own lives. When they first signed on as crew in New Zealand, they were inexperienced at blue water sailing, but they learned quickly and soon were manning the helm in a seaway, trimming sails, standing their watches, and were a great help in bringing Selena safely across 1200 miles of ocean and into port.
Next paragraph Click Pictures to open Pages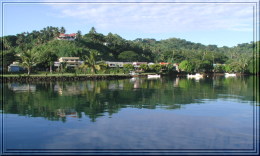 The business and boating economy of Fiji is large enough to support good supply and repair facilities in the larger cities, which turned out to be fortuitous for Selena and I. Not long after arriving here I discovered that the gears in Selena's transmission were badly worn and needed replacement (see below). This is one of the reasons we ended up staying in Fiji for a whole year. The town of Savusavu is located on the shore of Nakama Creek Harbor, in the south-eastern corner of greater Savusavu Bay. Savusavu is a port of entry, and here we cleared into Fiji.
Next.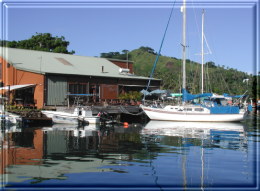 The historic Copra Shed, with the Savusavu Yacht Club Bar and Captain's Cafe, became my home away from home, as Selena and I remained tied to their waterfront deck for 10 months while awaiting parts and making repairs. In another place this could have been an unpleasant forced stay in purgatory, but due to the genuine friendliness and hospitality of the people here, and the well-protected harbor of Nakama Creek, our time here was fun and productive. Being moored to the deck of the Savusavu Yacht Club Bar was not bad either. This way I had electricity for tools and the computer, and enjoying an afternoon beer while admiring Selena and watching the sun set was certainly convenient.
Next.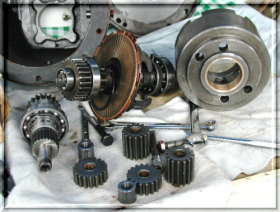 Stuck in paradise with a stuck up gear box. Shortly after arriving in Savusavu, Fiji, I discovered that Selena's transmission was getting unusually noisy. The gears for reverse had worn and it took several months just to get the parts from the USA and make the repair, which is the primary reason we ended up staying in Fiji for a whole year. Click the picture to the right for more of the story.
Next.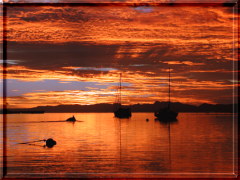 Nakama Sunset. End of another perfect day in paradise. Nakama means "hot" in Fijian and the warm lazy days and afternoon sunsets ablaze in the waters of Nakama Creek Harbor conspire to affirm it's name.


tenqp8
---
SeaJester Web Site URL: www.pqnet.com/seajester.htm
All text and graphics at this web site are Copyright © 2000 SeaJester. All rights reserved.
---
END


tenqp8