Scroll down 1
Nakama Creek Harbor, Savusavu Town
Fiji Islands, Vanua Levu
Savusavu Bay, about 6 to 9 miles wide, is located in the middle of the south side of Vanua Levu Island, second largest in the Fijian group. On the eastern end of this bay is the small picturesque Nawi Island (image 2), which forms the outer edge of Nakama Creek Harbor (aerial image 1). The town of Savusavu (Top image) nestled on the inner shore, is backed by the green palm covered hills of the south peninsula. Here is where we made our first landfall upon arriving in the Fijian Islands group. Savusavu Town is comprised of various shops for food, clothing, household goods, and basic services from shoe repair to vehicle repair, oriented to the basic needs of the local population. A few businesses cater to the tourist trade, such as hotels, restaurants, sightseeing, scuba diving, and the sailor's favorite hangout, the Copra Shed and Savusavu Yacht Club Bar (image 3-4).
Next paragraph Click Pictures to see Larger View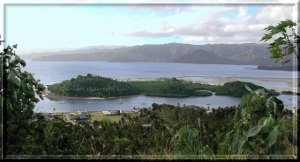 Looking north from the hills above Savusavu. Nawi Island, middle, forms the north shore of Nakama Creek Harbor, with the outer Savusavu Bay beyond, and the hills of Vanua Levu Island in the distance. In the foreground at the base of the hills is the western end of Savusavu town, the rest of which is hidden behind the foothill to the right. Just out of sight (right) is the famous Copra Shed. The west (left) end of the harbor has the new moorings and facilities of Waitui Marine. Here also is the popular Eco Divers scuba dive shop offering dive gear and tours both underwater and ashore. It is owned and operated by Curly who used to be a military Special Forces instructor, then came to Fiji several years ago and started his dive excursion business that has been growing ever since.
Next.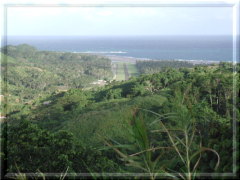 Looking south over the Savusavu Air Port and the Koro Sea. The Air Port lies about 2 miles south of town or a short taxi ride over the south peninsula hill. The local air lines fly daily to Nadi, Suva, and Taveuni. Savusavu is convenient for arrival and departure of visiting friends and crew changes.
Next.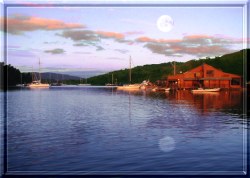 Moon rise over Nakama Creek Harbor. This destination is becoming more popular with international cruising yachts, as it is very protected from adverse weather and enjoys calm harbor waters most of the time, with scenic palm tree covered surroundings. The historic Copra Shed dock (shown on right) and the adjacent town makes getting supplies very convenient. Customs and Immigration offices are also ashore for yachts arriving from other international ports that wish to clear into Fiji. This makes Savusavu a convenient depot for visiting the more remote and interesting anchorages that are within a day or two sail from here.
Nakama is the Fijian word for hot, and this area has some geothermal activity evidenced by a few small geyser pools nearby. A couple of them form hot water creeks which flow into Nakama Creek Harbor, hence it's name. The locals sometimes set a pan of food to cook in the boiling water of the geyser pool. The harbor is about 40-60 feet deep, formed thousands of years ago by a volcanic fault line. Small earth tremors are not uncommon even now.
Next.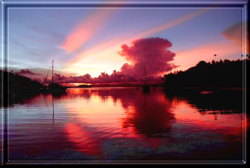 The south-eastern slopes of the Fijian Islands are more tropical with lush green plant life due to the prevailing trade winds and rainfall. Afternoon squalls and thunder showers are fairly common. Most experienced island cruising yachts keep their rain catching gear handy for refilling their water tanks with nice fresh rain water. Here we enjoy a beautiful sunset, but with a large thunder cloud threatening in the distance.
Next.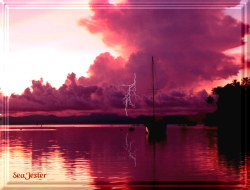 Lightning does occur but thunder clouds usually bring brief squalls and moderate to heavy rainfall, which can be quite welcome after a day of hot sunshine.


tenqp8
---
SeaJester Web Site URL: www.pqnet.com/seajester.htm
All text and graphics at this web site are Copyright © 2000 SeaJester. All rights reserved.
---
END


tenqp8