Scroll down 1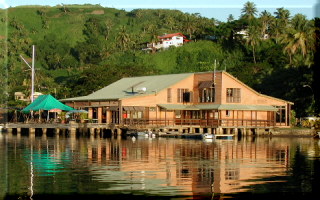 The historic Copra Shed, with the Savusavu Yacht Club Bar and Captain's Cafe with their popular pizza specialties, is a favorite hangout for the yachties.
Yes, that's Selena moored to the end of the Copra Shed wharf, just outside the Yacht Club Bar; very convenient for partaking in a sailors favorite activity of enjoying an afternoon frosty beer while admiring one's yacht moored peacefully in the harbor, backdroped by palm covered Nawi Island, at sunset.
Next paragraph Click Pictures to see Larger View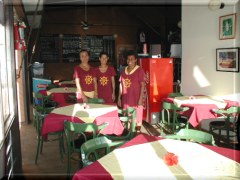 Upon entering the Copra Shed your nose will point you toward the Captains Cafe, like a compass following a fair weather course guided by the aroma of pizza in the oven. The menu is limited due to the size of the kitchen but that is well compensated by the generous portions, quality of food preparation, and genuine friendliness of the staff.
Next.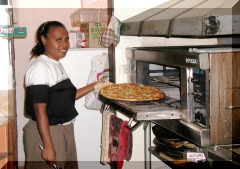 This pizza oven is probably one of the best investments made in the Savusavu economy. It is kept busy day and night and has even served up pizza to visiting movie stars, as evidenced by the autograph of Brooke Shields hanging on the wall.
Next.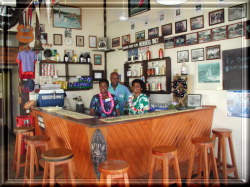 The Savusavu Yacht Club is a great place to catch up with fellow sailors and trade stories about cruising in the many islands groups of the South Pacific.
Next.



The Yacht Club also supports a youth sailing and racing fleet for the local kids. On most weekends you can see them practicing and racing in their Optimist Class sailing prams.
Next.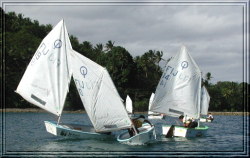 These junior racers are quite competitive and have raced in various competitions held at most major island groups in the South Pacific. Some Fiji sailors have gone on to race in the Olympic Games.
Next.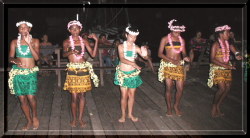 One of the local Fijian women teaches traditional Fijian dancing for a local youth group, known as the Langi Langi Dancers. Here they show there graceful skills for the people at the Copra Shed one evening.
Next.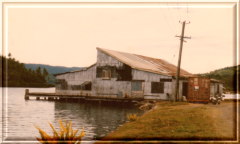 The picture at right shows the Copra Shed as it looked before it was renovated in 1989. Two Australian men, Tony Philp and Geoff Taylor, who live here in Fiji, saw it's potential and acquired the historical old building, oldest in Savusavu, which had previously been used as storage for the Copra awaiting shipment, from the local plantations. They obtained the services of Doug Gilson, a master carpenter and boat builder, to supervise the project. Doug was at the time cruising the local waters of Fiji in his classic style wood sloop "Pyramid", which he had constructed himself. Inside on the walls of the new Copra Shed are historic photos and documents showing some the interesting history of the era.


tenqp8
---
SeaJester Web Site URL: www.pqnet.com/seajester.htm
All text and graphics at this web site are Copyright © 2000 SeaJester. All rights reserved.
---
END


tenqp8