Westerbeke diesel engine dealers and
Paragon Transmission parts, no joy in paradise.
On closer inspection I found that one of four mounting bolts that attach the transmission to the diesel engine was missing. It must have been missing for a long time as the other bolts had become loose and the whole tran had dropped about two degrees angle from its proper position. This had put undue strain on the gears inside causing them to wear excessively. The Paragon Transmission was original equipment and installed with the Westerbeke diesel engine. I sent an Email to the US Westerbeke dealer and they informed me that the Paragon Transmission parts were no longer available for my model, the SA0V manual transmission, and there was no other model that would fit to my engine.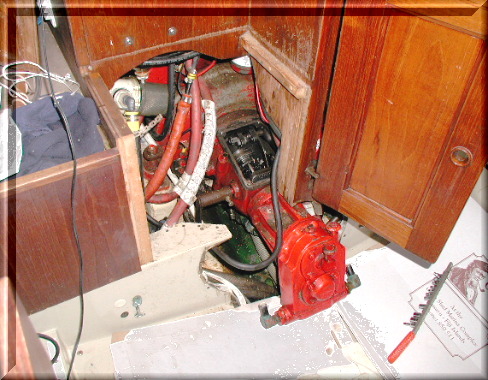 This was very disconcerting news for someone stuck out here in the middle of the Pacific Ocean. Their suggestion was that it was "time to re-power", meaning buying and installing a whole new engine, transmission, and V-drive. I estimated I was facing at least US$ 12,000.oo plus in expense. My Westerbeke 30 engine runs perfectly and shows no sign of needing repair, so it seemed unreasonable to me that I would have to trash a perfectly good engine, tran, and V-drive, just because 2 gears in the transmission were worn. Then I remembered that I had found difficult to find computer parts on the internet, so I decided to do a search for the Paragon Transmission parts. Sure enough I found about four places that could either repair the tran or supply parts for my older 1978 SA0 Manual Transmission. I decided to use Great Lakes Power in Mentor, Ohio, www.glpower.com as they were the most responsive to my Email inquiries. I also got some parts from Transmission Depot, Pompano Beach, Florida, www.transmissiondpot.com