About 130 miles North of Bundaberg is the mouth of the Fitzroy River.
Selena carefully motored the 20 miles up the Fitzroy River, and rounding the last big bend in the River called "Devils Elbow", arrived at the Town Reach mooring area (shown below), located right in the middle of the City of Rockhampton, affectionately called "Rocky" by the locals.
We picked up a mooring just opposite the Fitzroy Motor Boat Club (right side of picture). Folks here are friendly to visiting yachts. They have a nice dingy dock and showers, water, ice and beer available at the club. Only drawback was that Rockhampton was having record heat and humidity the week of our visit.
Rockhampton has some interesting historical buildings built about 1920s when it was a Port for livestock and mining. They have a small zoo and Botanical Garden park here which is very beautifully done, and reputed to be one of the best in Australia. After visiting there I could agree with that. Commercially Rockhampton has a large cattle and beef industry, so is a good spot to visit for a steak dinner.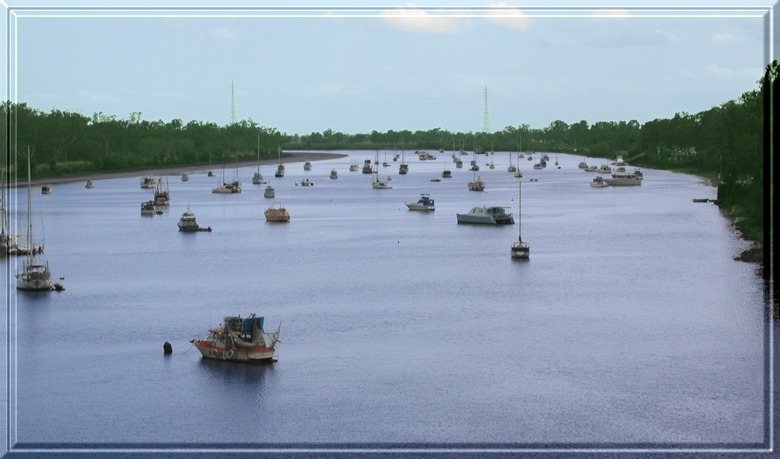 Fitzroy River Mooring Area (Lat 23-23s Lon 150-31e), City of Rockhampton